The power of the GTX 1080 Ti is unbeatable until now and we have come across something even more powerful. The Asus ROG Poseidon Platinum GTX 1080 Ti has the ability to push its overclocked GTX 1080Ti GPU over 2GHz which itself is a massive figure. But adding something more to it, let's talk about the cooling options for the card now. First, let's jump into the card's specifications.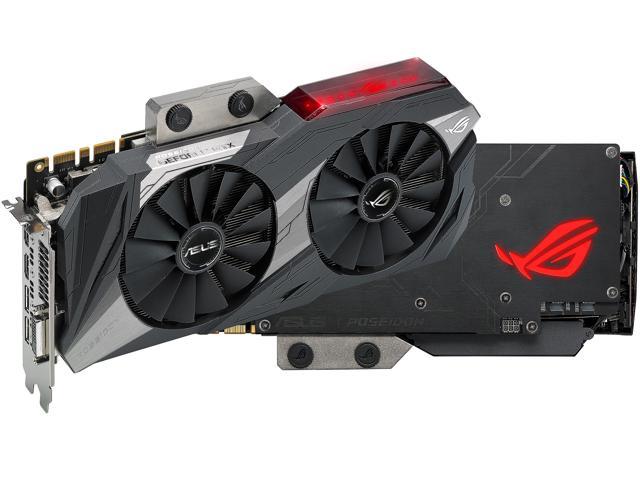 Specification
Graphics Engine Nvidia GeForce GTX 1080 Ti
Bus Standard PCI Express 3.0
Video Memory 11GB GDDR5X
Engine Clock
Gaming Mode – GPU Boost Clock 1,708 MHz, GPU Base Clock 1,594 MHz
OC Mode – GPU Boost Clock 1,733 MHz, GPU Base Clock 1,620 MHz
CUDA Core count 3,584
Memory Clock
Gaming Mode 11,010 MHz
OC Mode 11,100 MHz
Memory Controller 352-bit
Interfaces 1x DVI-D, 2x HDMI 2.0, 2x Display Port
Power Connectors 2x 8-pin
Supports OpenGL4.5
Software Asus GPU Tweak II & Driver
Dimensions 298mm x 158mm x 50mm
The First Look
Looking at the Asus ROG Poseidon Platinum GTX 1080 Ti for the first time, what we have is a regular-looking premium graphics card with a dual fan setup. The cooling system installed in the card uses an open two-and-a-half slot design so the Poseidon works perfectly fine without using the fans until the temperature hits 55 degrees. After the 55 degrees mark, the fans are turned on so that better care of cooling is taken afterward.
Additional Features
With two Display Port connectors, 2x HDMI 2.0 and 1x DVI-D in place, the card comes with Asus Fan Connect II feature. Also, the card has two 4-pin fan headers so that the PWM and DC can work fine. We are digging deep into this, so stay tuned until we find out more interesting things about the ROG Poseidon Platinum GTX 1080 Ti by ASUS for you.