A few days ago, we covered the Futuremark's Cyan Room benchmark system for DX12 platform and now, we have the first contestant up for testing. AMD RX Vega, i.e. the center of everyone's attention these days, has been put up for the benchmark and the findings are somehow phenomenal.
RX Vega's VR Performance
The card is known for its overall performance but have you ever thought about its VR performance in specific? The recent results of this test show some remarkable results! The results are so encouraging that they have even beaten GTX 1080 and GTX 1070Ti in the Cyan Room benchmark. The mid-range RX 580 has also ousted GTX 1060 in the same test.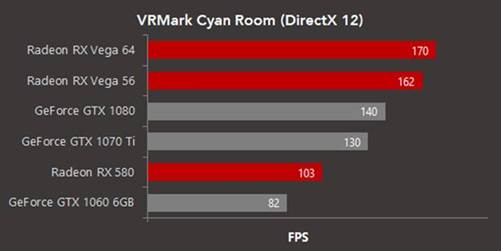 The Results
In the benchmark results listed, here are the findings so far:
RX Vega 64 -> 170 frames per second
RX Vega 56 -> 162 frames per second
GTX 1080 -> 140 frames per second
GTX 1070Ti -> 130 frames per second
RX 580 -> 103 frames per second
GTX 1060 -> 82 frames per second
Where is GTX 1080 Ti?
A lion doesn't have to prove that it's a threat, you already know what it is capable of! Obviously, you can't compare all these kids to the leader of the clan so, no comments on that!